Many people think Pilates is a single practice, but it consists of a wide variety of formats. From classes that use a chair to classes that use a mat or machine,
Pilates can be suited to all ages and fitness levels.
The variety is endless!
Here, we'll cover the similarities and differences between two of the most popular Pilates formats — Mat Pilates and Reformer Pilates. We'll explain the benefits of each practice, the best Pilates practice for beginners, and go over some frequently asked questions so you can decide which class is right for you.
What Is Matwork Pilates?
Mat Pilates is considered the true foundation of Pilates. Developed by Joseph Pilates, Matwork Pilates relies on the use of body weight for resistance to tone, strengthen, and build stamina. Aside from a mat, zero equipment is needed. This makes Mat Pilates the most accessible form of Pilates.
Mat Pilates is easily adapted to all ages and fitness levels. From brand new practitioners to seasoned pros, Mat Pilates is a challenging, dynamic discipline that offers serious results. With matwork, the exercises can be made as difficult or easy as needed.
Benefits of Matwork Pilates include
Because of all the possibilities for variations, anyone, from beginners to advanced practitioners can do it
The way Matwork Pilates activates the core is difficult to replicate, even with Reformer Pilates
Requires no special equipment, just a matYour muscles must work against gravity and in multiple planes of movements
Improved strength, mobility, flexibility, posture, and coordination
Great for learning the foundational movements of Pilates, the names of each exercise, the language of Pilates, and how to breathe correctly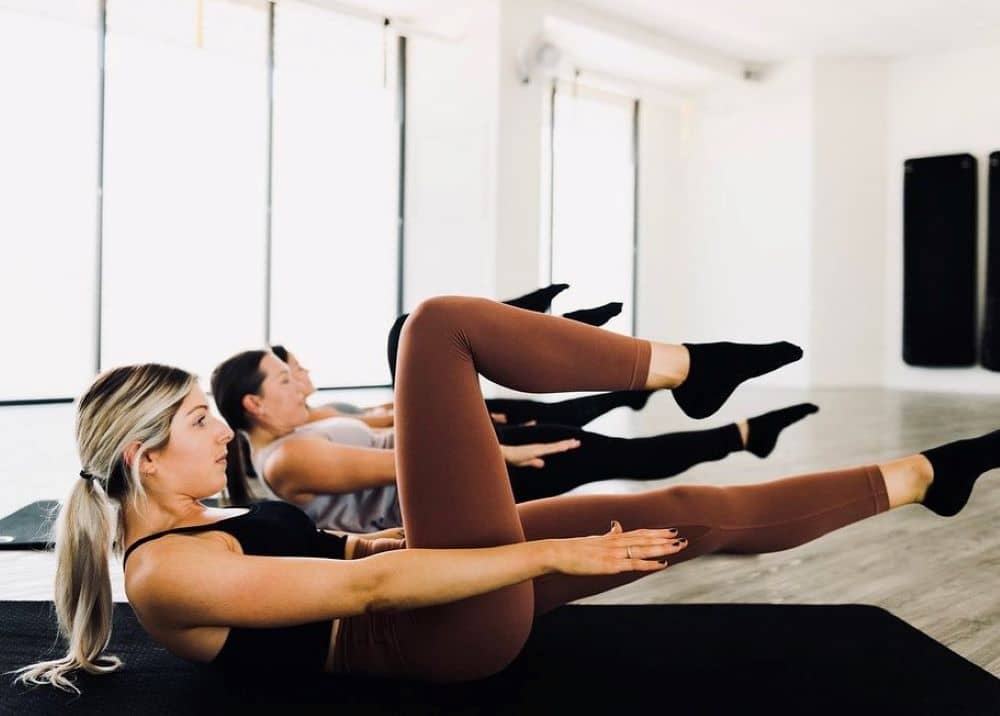 What Is Reformer Pilates?
Reformer Pilates relies on a piece of equipment known as a Reformer to add resistance and variety to traditional Pilates workouts. Although Reformer Pilates is low-impact, it offers an extremely challenging workout that targets every muscle from head to toe.
The reformer machine consists of a moving flatbed known as the "carriage". This carriage is situated on a wood or metal frame and has a series of springs, pulleys, and straps attached to it. Each part can be adjusted to offer more or less resistance or accommodate different heights. The machine can be completely modified according to an individual's needs.
Using springs for resistance, Reformer Pilates sculpts lean muscle while improving posture, strength, flexibility, and functional movements.
When using the reformer machine, expect to be in a wide range of positions, including standing, lying on your back, perched on a footbar, lying on your stomach, seated, or lying on your side. If you get easily bored with workouts, we highly recommend Reformer Pilates!
Benefits of Reformer Pilates include:
Various modifications make it an ideal practice for individuals recovering from an injury or dealing with joint issues
Ideal for rehab purposes since it allows a client to perform exercises while in a horizontal position rather than a weight-bearing vertical position
Works the muscles in a balanced way
The resistance from the springs is extremely effective for sculpting long, lean muscles
Ideal for individuals who are looking for a little more variety in their workout (you'll be in all sorts of positions throughout your workout!)
A great challenge for both the mind and the body
The machine acts as a support system for the body and can assist with proper form
Extra springs can easily be added to increase the challenge
Allows a greater variety of exercises to be performed compared to mat Pilates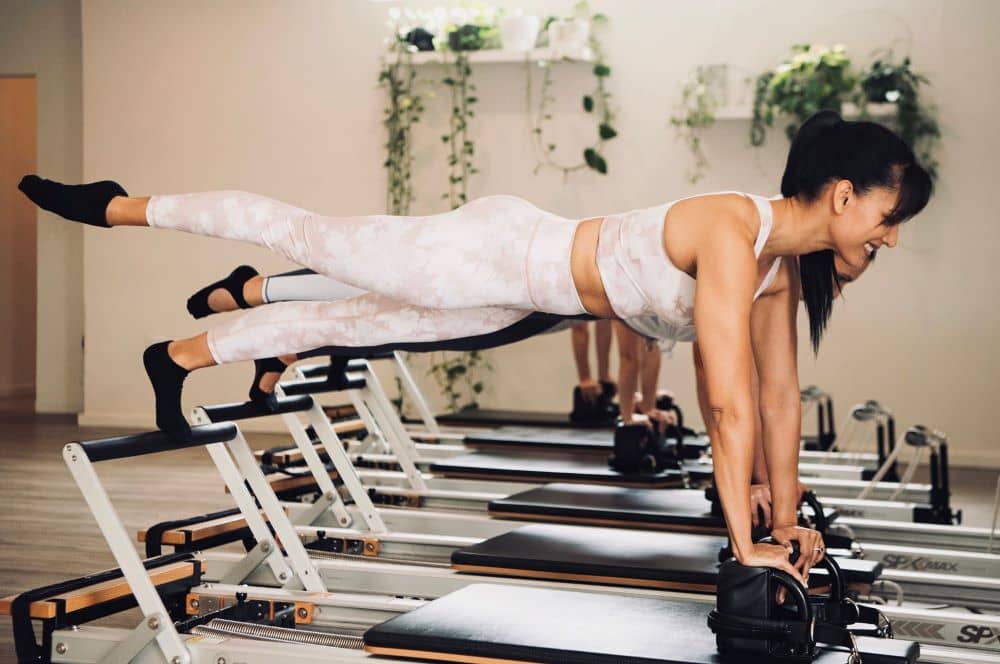 What Are the Similarities Between Mat Pilates and Reformer Pilates?
Along with benefits such as increased strength and flexibility, Mat Pilates and Reformer Pilates share many similarities. Exercises like leg circles and the hundred can be done in both practices and both formats also tend to follow a set sequence.
Mat Pilates and Reformer Pilates are both highly adaptable, making them suitable for all ages and fitness levels.
What Are the Differences Between Reformer and Mat Pilates?
The main difference between Mat Pilates and Reformer Pilates is the use of your body for resistance versus springs and straps. Mat Pilates requires zero equipment aside from the mat whereas Reformer Pilates uses a machine.
Another difference is that Mat Pilates involves groundwork and Reformer Pilates utilises movements on an elevated surface.
Since mat work Pilates only involves you and a mat, it lacks the intimidation factor that people often feel with the reformer machine. Without the springs, straps, and footbar, some individuals feel more comfortable approaching Mat Pilates.
However, there is no need to be intimidated by Reformer Pilates. The reformer's surfaces can be advantageous to newcomers. Feeling the straps or grasping the handles can help build the mind-body connection as you progress through a workout. Feeling the support of the machine can also help put you at ease and lock in proper form.
Our experienced instructors will walk you through all the parts of the machine, and how they work, and demonstrate modifications as needed so you can approach Reformer Pilates with confidence.
We'll make sure you feel safe and comfortable the entire time and we are always happy to answer any questions. Plus, our Intro to Pilates class is a prerequisite to our Reformer Pilates classes, meaning you'll already have a solid foundation of the practice.
Is Reformer Pilates Harder Than Mat Pilates?
One of the biggest misconceptions about mat Pilates is that it is easier than Reformer Pilates. Not true! Both disciplines can be modified to challenge even the most advanced practitioners.
‍Which Form of Pilates Should I Choose? Mat Pilates or Reformer Pilates?
Matwork Pilates and Reformer Pilates are both excellent practices for improving strength, coordination, balance, flexibility, and mobility. Ultimately, it comes down to your goals and personal preference. If you are brand new to Pilates, we highly recommend starting with Reformer Pilates.
Although Mat Pilates teaches all the key Pilates techniques, movements, and terms, so does Reformer. You can build a solid foundation for your practice within a few classes, you'll understand terms such as spinal articulation and c-curve and have a thorough understanding of Pilates fundamentals.
If you are recovering from an injury, know you will need modifications, or are pregnant or postpartum, Reformer Pilates is an excellent place to start. Since the reformer is off the ground, it can be easier to get on and off the machine instead of having to get up off the floor. A reformer also offers a vast range of modifications and allows individuals to easily change positions or the level of resistance.
The resistance provided by the reformer also offers bone and joint health benefits, making Reformer Pilates an ideal practice for ageing individuals. The low-impact nature of Mat Pilates and Reformer Pilates is excellent for anyone dealing with joint issues or recovering from an injury.
Our Intro to Pilates Class is a prerequisite for our Reformer Pilates class, and all levels are welcome. For our Matwork Pilates, we also highly recommended attending our Intro to Pilates Class first, especially if you are new to the practice or our studio.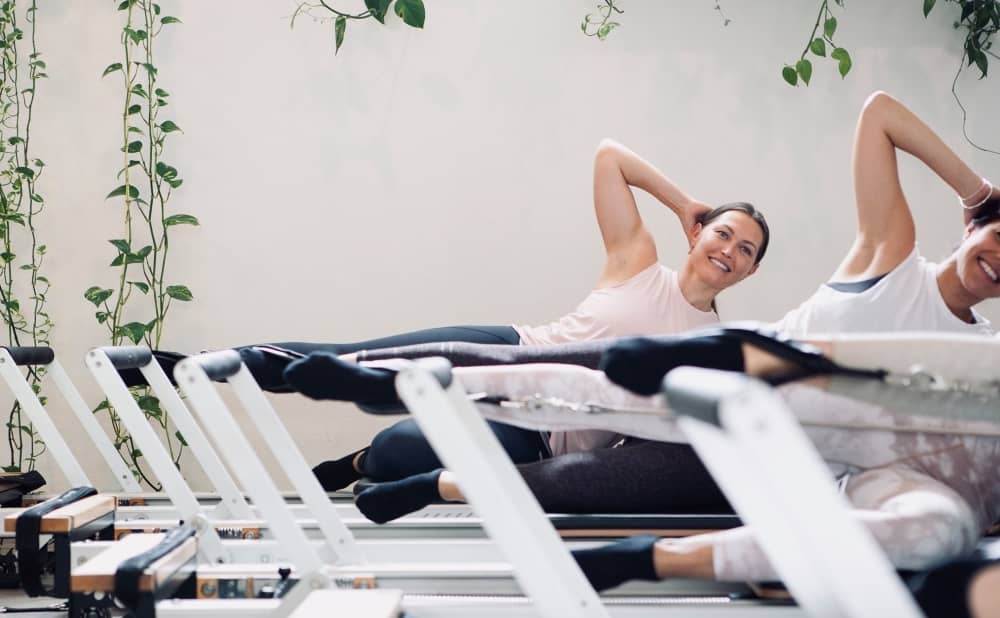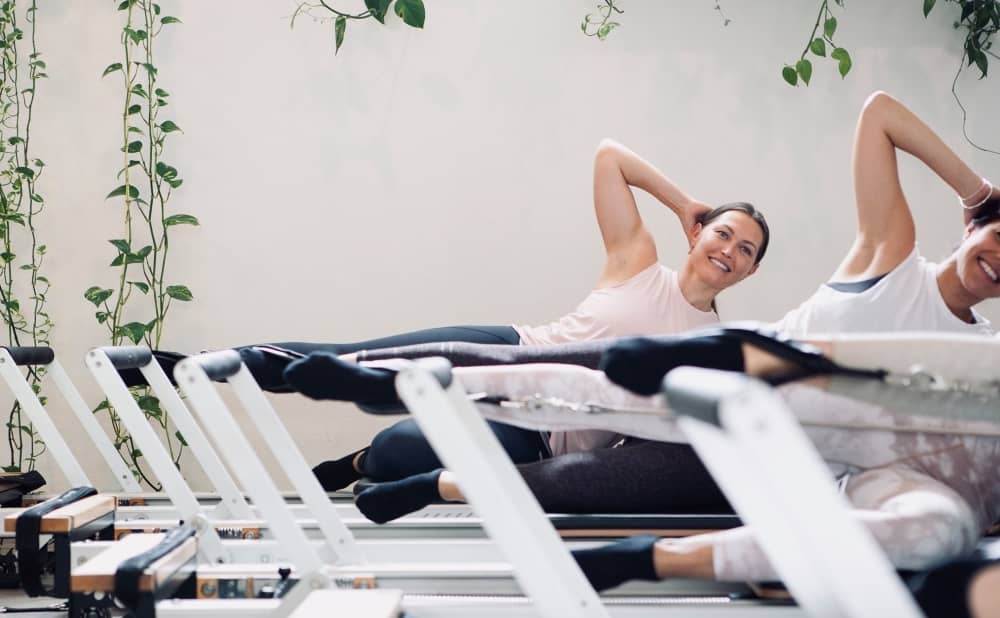 Want to Try a Reformer or Mat Pilates Class for Yourself?
Whether you're looking to build strength, improve your balance, switch up your workout routine, or recover from an injury, Pilates is an amazing practice that can challenge every muscle in your body.
Mat Pilates and Reformer Pilates are both amazing workout formats, each offering unique challenges and benefits.
If you aren't sure which class to start with, please contact us. We are always here to answer any of your questions, offer advice on the best class for your current fitness level, or help you schedule a class. If you are new to our studio or Pilates, you can use our convenient online booking tool to sign up for an Intro to Pilates class.