A full body workout that will transform your body from the inside out.
Reformer Pilates
Reformer Pilates is a low impact challenging workout that sculpts lean muscles from head to toe. This effective, unique practice uses a machine known as the Pilates reformer to add resistance for an extra challenge.
Using springs for resistance, Reformer Pilates effectively targets and improves flexibility, strength, posture, and functional movement.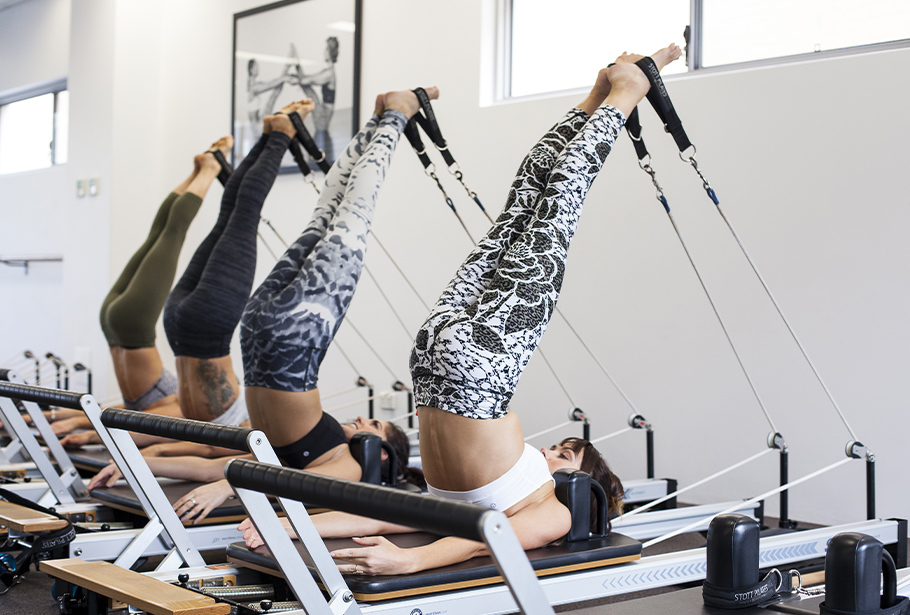 Results from Reformer Pilates
The versatility of the reformer machine combined with the spring-based resistance offers a range of benefits, including
An effective workout that targets muscles you didn't realize you had
High intensity but low impact and gentle on the joints and body
Helps promote strong bones due to the resistance involved in training
Sculpts long, lean muscles through the use of eccentric contractions (a muscle lengthening as it resists force)
Ideal for functional training
Excellent for targeting and toning the core
Improves coordination, balance, and posture thanks to the machine's instability as it rolls and the resistance of the springs
Is Reformer Pilates Right for Me?
Whether you're looking to switch up your workout routine, build strength, improve your balance, or recover from an injury, Reformer Pilates is an amazing way to challenge your entire body. From Clients who are completely new to the practice of Pilates all the way to the most advanced practitioners, the reformer always offers room to progress.
Our Intro to Pilates Class is a prerequisite for our Reformer Pilates class, but all levels are welcome.
Join Us Today
If you have more questions about Reformer Pilates or any of our other classes, we'd love to talk with you. Please feel free to reach out to us at any time or use our convenient online scheduler to book a class with us.