Barre Pilates.
Traditional Pilates.
Boxilates.
Chair Pilates.
Reformer Pilates.
Matwork Pilates.
With so many variations, it can be overwhelming to decide which Pilates format is right for you. We've already covered the difference between Mat Pilates and Reformer Pilates, and we'll continue to create posts explaining the difference between the various Pilates formats.
‍Here, we will cover the differences between Pilates and Barre Pilates so you can decide which Pilates format is best for your fitness level and goals.
What is Pilates?
Pilates was created as a strength-building program with an emphasis on rehabilitation and small, repetitive movements. Created by Joseph Pilates, it focuses on strengthening both the muscles and the mind through a series of controlled movements.
Pilates is low impact and relies mostly on body weight for light resistance, along with the occasional use of resistance bands or other equipment. This popular format focuses on stabilising the pelvis and spine, improving the mind-body connection, strengthening the core, and building flexibility and mobility.
A standard Pilates class will feature repetitive movements that work the muscles to exhaustion, with a strong focus on the core, hips, glutes, thighs, and lower back.
What is Barre Pilates?
Barre is a workout format that combines elements of ballet, yoga, and Pilates all into one dynamic, effective class. Created by ballerina Lotte Berk, Barre Pilates focuses on amping up the heart rate with low-impact, dance-inspired moves.
Barre helps promote a dancer's physique by sculpting long, lean muscles. In class, members use a ballet barre for added stability and balance as they complete isometric movements inspired by ballet.
Barre classes feature functional movements designed to improve balance and strength, while its dance-based moves elongate and tone muscles. It provides movements based directly on ballet postures and foot positions.
This fun workout format relies on body weight or simple equipment to add resistance and fully fatigued muscles.
What Are the Similarities Between Pilates and Barre?
Traditional Pilates and Barre share many similarities. Both workouts can be modified to suit every fitness level, from complete newbies to advanced practitioners.
Both Pilates and Barre offer a variety of physical and mental benefits, including:
A low-impact workout
An effective full-body workout
Challenge muscles from head to toe, especially the core and back muscles
An invigorating yet relaxing workout
Improved strength
Improved posture, mobility, and flexibility
Decreased stress and improved mood
Improved hip and pelvis alignment
Improved balance
Great for all ages and skill levels
What Are the Differences Between Pilates and Barre?
Although both workouts formats feature low-impact movements with a focus on core activation, there are key differences between Pilates and Barre Pilates, such as:
Barre workouts place a strong focus on fatiguing muscles through repetitive, intense, isometric moves based on ballet
Barre workouts feature more technical movements
Pilates places a stronger emphasis on controlled, deep breathing techniques
Barre classes often offer more variety and a free-form approach
Barre classes feature cardio bursts intended to raise the heart rate
Barre classes may remind you more of an aerobics class compared to a traditional Pilates workout
Pilates places more focus on core stabilisation
Pilates typically moves at a slower pace and places more focus on stretching
Pilates focuses on finding your centre and lengthening your body
Is Pilates or Barre Pilates Better for Your Fitness Goals?
Both traditional Pilates and Barre Pilates can help you build strength, gain flexibility, improve your balance, and decrease stress. While they share many similarities, each class offers its unique benefits.
Barre Pilates is ideal for individuals who:
Are easily bored with traditional workouts and thrive on variety
Enjoy faster-paced workouts that still promote increased flexibility and mobility
Need a low-impact workout that still feels intense
Want to build long, lean muscles and a dancer-like physique
Enjoy a fun, upbeat approach to workouts
Want to get their heart rate pumping!
Prefer more technical, isolated movements
Pilates is ideal if you:
Enjoy a stronger focus on breathing and centering
Want an intense, low-impact workout without being fast-paced
Want a strong emphasis on activating your core muscles and aligning your pelvic muscles
Want to focus on using your muscles with intention and control
Want to increase your mind-body connection
Both workout formats are an excellent choice if:
You want to improve your mobility and flexibility
You have a desk job that promotes poor posture and hunching
You want to strengthen your pelvic and core muscles
You want to work on your balance and endurance
You need to push through plateaus and get excited about working out again
Are working on regaining strength and function after an injury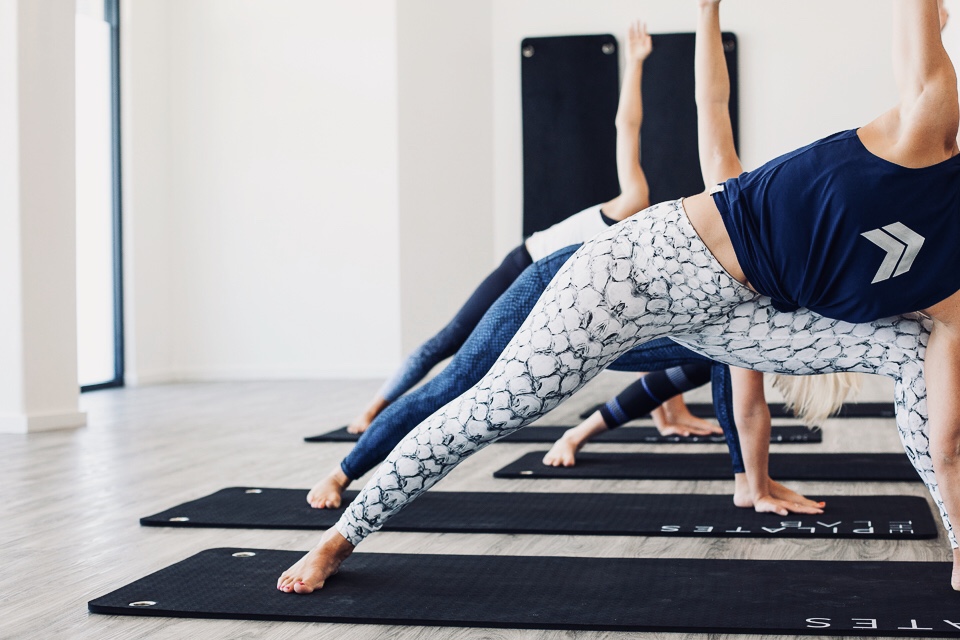 Want To Learn More About Our Perth Pilates Classes?
Whether you are brand new to Pilates or have already tried a class, we invite you to learn more about our fun, effective Pilates classes in Perth.
If you need help deciding if Pilates or Barre Pilates is right for you, please feel free to contact us. The best way to choose is by giving both formats a try, so we highly recommended testing each class for yourself! Perhaps you'll want to keep both Pilates and Barre classes in your fitness rotation. Adding a mix of workout formats to your routine can prevent boredom and keep you excited about showing up to class.
Whether you choose traditional Pilates, Barre Pilates, another Pilates format, or a mix of workouts, the most important thing is finding a workout you enjoy. When you look forward to your workouts, you are more likely to stick to a fitness routine in the long run.
Our certified instructors are committed to helping you discover fun, effective workouts that you enjoy — join us for a class today!