Are you curious about taking your first Pilates class but aren't sure what to expect? We've put together a guide to everything you need to know before your first Pilates class so you can feel confident about trying this
effective, transformative workout.
Here, we'll cover everything you need to know about your first Pilates class, from what to expect, the best tips for your first workout, and frequently asked questions about Pilates.
What to Expect from Your First Pilates Class and Tips for Making the Most Of It
1. You'll Work Muscles You Didn't Know You Had
Think Pilates is slow, easy, and not much of a workout? While Pilates is low-impact and gentle, don't let that fool you – it is a seriously intense workout that will challenge muscles you didn't even know you had.
Pilates classes target the entire body to improve flexibility, posture, and strength. Even seemingly simple movements will probably leave your muscles burning or shaking.
You'll likely be challenging new muscles and doing new movements, so expect to feel sore the day or two after your workout. For example, the inner thigh muscles can be difficult to hit during traditional exercises such as running or HIIT workouts, but Pilates is an effective way to challenge and isolate them.
With time, your body will continue to get used to the different movements as you build strength and improve your flexibility.
2. Know the Three Main Types of Pilates we offer at The Pilates Lab
You may assume all Pilates classes are the same, but there are three main types: Reformer Pilates, Mat Pilates and Chair Pilates.
Here, we'll break down these three different types of Pilates to help you choose the best type for your fitness and wellness goals. Often, we like to recommend a combination of all the types of pilates for best results.
Reformer Pilates – Pilates uses a sliding platform featuring springs and pulleys to add resistance to traditional Pilates moves. This resistance increases the intensity and presents an extra challenge to muscles.
The Chair is a multifunctional pilates machine that uses a split pedal and spring system to create resistance. While you perform traditional Pilates exercises on the chair it will challenge you differently than all the other types as it has a very unique design. The chair gives you a good balance of stability, mobility and strength exercises.
Mat Pilates – Mat Pilates focuses on exercises that lengthen, strengthen, and target the core using only bodyweight and occasional props such as chairs or balls. Moves are completed while using a thick mat (typically a bit thicker than traditional yoga mats) to cushion pressure points and provide a comfortable experience.
3. Aim To Arrive a Few Minutes Early
While we typically think of arriving on time as showing up right at the start of class, it can be helpful to show up about 5 to 10 minutes early to your Pilates workout. This allows you time to find your preferred spot, introduce yourself, and get settled in before class starts.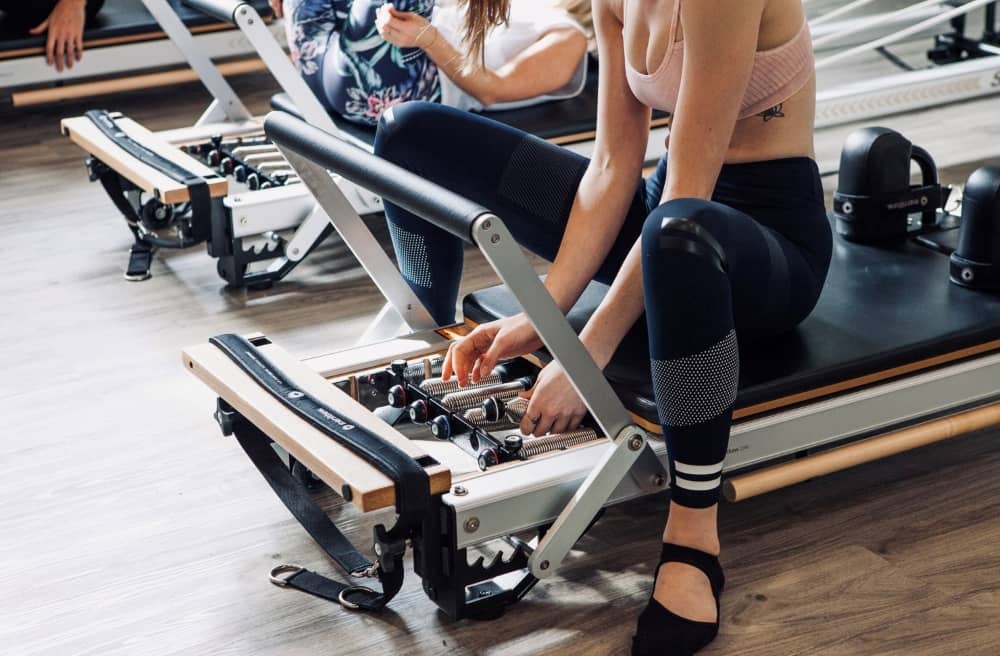 4. Focus on Breathing and Mindfulness
The majority of Pilates classes focus on precise, intentional, slow movements. During class, it is important to breathe deeply and slowly while carrying out each movement with proper form.
It may feel awkward at first, but with enough practice, proper breathing will become second nature. An instructor may offer occasional cues to help you concentrate on proper breathing techniques as you perform each move.
5. Don't Let the New Terms Overwhelm You
Neutral Pelvis. Imprint. The Hundred. Peeling through the spine. Powerhouse.
If you are newer to Pilates, you may find the different terms confusing at first. Don't worry – after a few classes, you will start understanding all the terms and what they mean.
To get you started, here is a quick explanation of some of the most common terms in Pilates:
Neutral Pelvis – Is the position when your pubic bone is in line and level with your two hip bones (asis)
Imprint – position when your pelvis tilts back and your lower spine moves toward the floor
Powerhouse – The centre of your body/your core and pelvis and low back where your power to execute movement comes from
Peel Through the Spine – Slow, deliberate, controlled movement from vertebra to vertebra
The Hundred – A breathing exercise focused on core strength and stability
The Roll-Up – A precise movement that stretches the back of the body and spine and strengthens the core
C-Curve – A move where you make a capital 'C' with your
Midline – An imaginary straight line running from the top of your head down to your feet
Zipper or Zipping – Pulling your lower abdominals up and in to tighten and activate your core
Most importantly, if you need help understanding a term, ask your instructor. We are happy to thoroughly explain any terms to ensure you are getting a safe, effective workout.
What Should I Bring To Pilates Class?
Wondering what to bring to Pilates class? For most Pilates classes, you only need a few basic items, such as:
Towel
Mat – we provide mats but you are always welcome to bring your own for mat classes
Water bottle – we have a fountain you can fill your bottles up
What Should I Wear To Pilates Class?
Here, we will cover tips for the best clothes to wear to Pilates classes:
No shoes are needed – but in our studio, we require grip socks for safety and sanitary reasons
A light sports bra if desired
Avoid clothing with zippers, buckles, belts, etc.
Tie long hair back
Choose comfortable, body-hugging options such as crop tops, tank tops, or form-fitting t-shirts (you want to move freely without any clothing getting in the way) Opt for form-fitting capris or yoga pants (tight shorts are okay too, but can sometimes ride up during moves)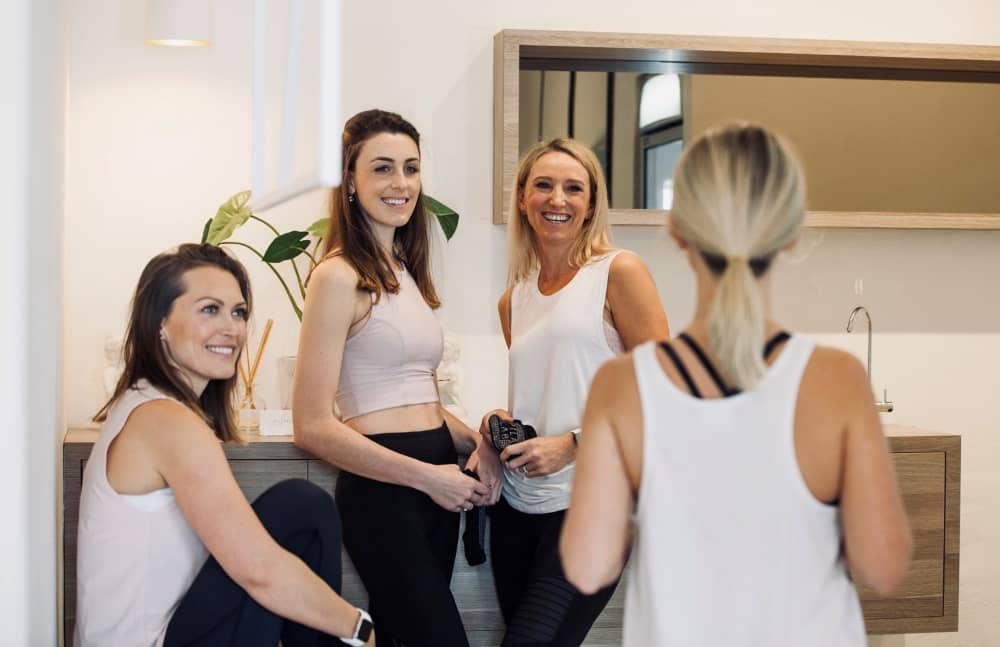 Ready To Book Your First Pilates Class?
Are you ready to book your first Pilates class? We offer a comprehensive range of different types of Pilates classes, including mat, reformer, chair, barre, prenatal, and more.
If this is your first Pilates class or you want to do a Matwork, Reformer or Chair class, we require new students to take our Intro to Pilates session. This introductory class focuses on proper breathing techniques, how to engage your core and activate your muscles, how to properly align your spine, equipment setup, and studio policies, and we will guide you through a basic workout. This intro class also allows your instructor to evaluate your current fitness level and recommend modifications if you have any injuries.
You can expect your first Pilates class with us to be gentle, informative, fun, and effective. We provide clear, safe instruction to help you confidently progress and achieve results.
Still, have more questions? Please feel free to reach out to us and we'll gladly answer all your questions or help you decide which Pilates class would be best for your experience level and goals.