Reformer Pilates is a challenging workout that is gentle on the joints, sculpts lean muscles from head to toe, and always keeps the body guessing. If you already love our Reformer Pilates classes, you may be curious about our Cardio Reformer Pilates classes.
Read on to learn what a Pilates reformer is, the benefits of Cardio Reformer Pilates, and how Cardio Reformer Pilates can transform the way your body looks, feels, and functions.
What Is a Pilates Reformer?
The Pilates reformer is a machine with a cushioned platform that rolls back and forth on wheels. A set of springs is attached to one end to add resistance.
The Pilates reformer makes for a unique workout that is fun yet intense. The versatile machine uses spring-based resistance and body weight to challenge the entire body.
Despite the intensity of the workouts, the moves are extremely gentle on the body and joints, making Pilates reformer workouts ideal for a wide range of ages and fitness levels.
What Are the Benefits of Reformer Pilates?
The benefits of Reformer Pilates include:
Effective full-body workout
Builds long, lean muscles and serious strength
High intensity yet gentle on the joints and low impact
Improves posture
Strengthens the core
Strengthens the spine
Better balance
Improves flexibility
Improves mobility
Unique, versatile, and fun
Suitable for all fitness levels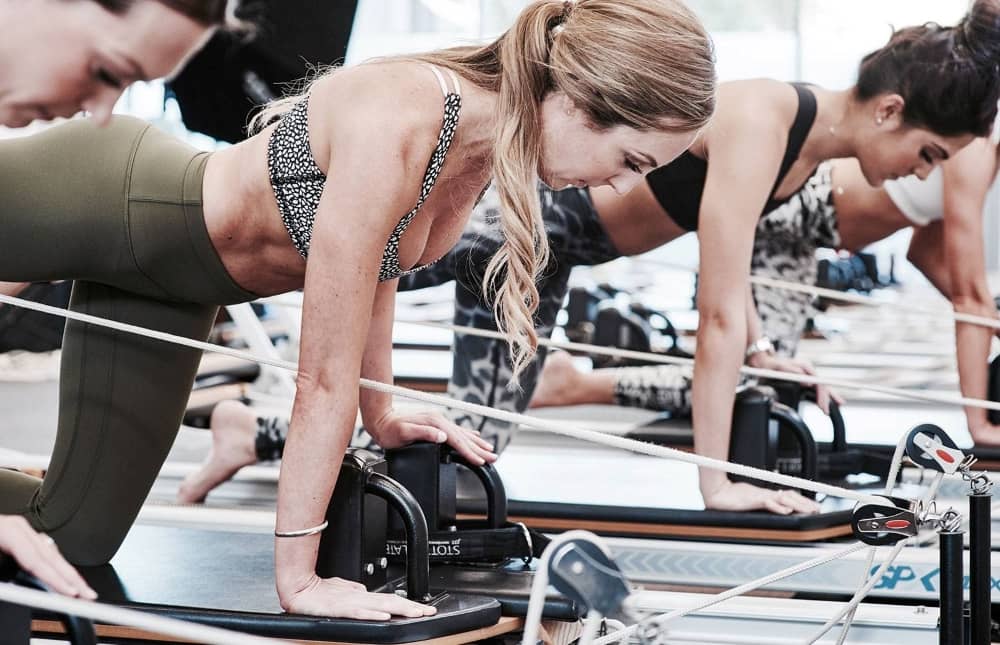 What Is Cardio Reformer Pilates?
Cardio Reformer Pilates takes all the benefits of Reformer Pilates and amps them up! This class moves at a faster pace than typical reformer sessions to get your heart rate pumping.
By amping up the intensity, you'll experience a full-body Pilates workout that will leave you sweaty and exhausted in the best way.
Along with performing the moves at a faster pace, we incorporate the jump-board and other props to increase the intensity and raise your heart rate even more.
Benefits of Cardio Reformer Pilates
Along with the benefits of regular Reformer workouts, our Cardio Reformer Pilates classes can help you:
Increase calorie burn
Elevate your heart rate
Save time by getting your cardio and strength training all in one
Challenge new muscles in your body
Build a stronger mind-body connection
Build stabiliser muscles in the spine and pelvis
Build stronger bones
Promote recovery and healing
Increase joint mobility
Keep your workouts fresh, fun, and challenging (perfect for individuals that tend to lose motivation or get bored with workouts)
Is Cardio Reformer Pilates Right for Me?
If you are already familiar with our Reformer Pilates classes, we invite you to join us for a Cardio Reformer Class.
If you are brand new to our studio, you'll start with our Intro to Pilates class before moving on to our regular Reformer Class. You can also check out our blog on A Guide to Your First Pilates Class. Once you've mastered the basics of Reformer Pilates, we'd love to help you experience the benefits of Cardio Reformer Pilates.
If you have more questions about Reformer Pilates, Cardio Reformer Pilates, or any of our other fitness classes, we'd love to talk with you. Please feel free to reach out to us at any time or use our convenient online scheduler to book a class with us.