Love Pilates but want to
kick it up a notch?
We've got the perfect class for you — Boxilates. It's dynamic, exciting, challenging, and offers exceptional results.
And, it's downright fun.
Here, we'll cover everything you need to know about Boxilates, including the benefits of Boxilates, what to expect for your first class, and who Boxilates is ideal for.
What Is Boxilates?
Boxilates is an interval-style workout that fuses the fast-paced movements of boxing with some Pilates core sequences. While the combination of boxing and Pilates may sound a little surprising, these two workouts complement each other beautifully.
In class, you will use boxing gloves and pads to perform a variety of boxing drills with a partner. In between the upbeat boxing drills, various Pilates exercises are seamlessly weaved throughout.
Together, the functional movements of Pilates combined with the heart-pumping boxing action to form a creative, high-intensity, full-body workout.
Benefits of Boxilates
Between the faster pace, functional movements, and challenging exercises, Boxilates is excellent for:
Reducing stress and calming down an overactive mind
Getting strength and cardio workout all in one
Enhancing the mind-body connection
Improving posture
Increasing flexibility
Providing an all-over-body workout (seriously, you'll probably notice muscles hurting the day after class that you've never worked before)
Improving coordination and muscle control
Providing a natural energy boost
Improving muscle tone and sculpting long, lean muscles
Building powerful muscles in the arms, back, and shoulders
Mental empowerment
Is Boxilates Right for You?
If you need to work through some stress, Boxilates is your class. Between the rapid boxing drills, challenging sequences, and intense need for focus, you won't be able to think about anything but the next move.
Boxilates is also great for individuals who easily lose motivation or get bored doing the same movements over and over. You'll never know what to expect from a class, or even what to expect for the next move! If your workouts have been feeling stale and your motivation has been lagging, we highly recommend the creative, exciting vibe that Boxilates has to offer.
Along with the varied movements and sequences, Boxilates offers the encouraging vibe of a group class. If you thrive on positive energy, you'll love the atmosphere of Boxilates.
If you have specific questions about deciding if a Boxilates class is right for you, please feel free to reach out to us. We'd be happy to discuss your current fitness levels, and goals, and offer personalised class recommendations.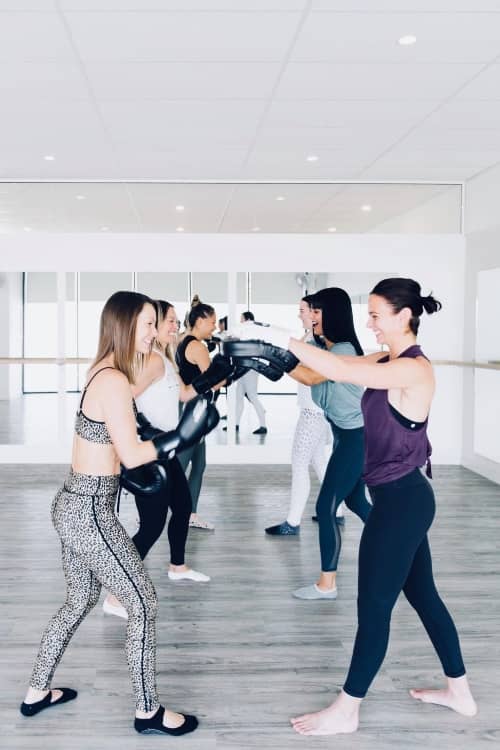 Can Beginners do Boxilates?
We welcome all levels to our Boxilates class, including beginners. With the option for modifications, Boxilates is suitable for all fitness levels and ages. As a beginner, there are various options for working your way up to a higher level.
For instance, you can keep your intensity lower until you gain more strength and endurance. Our instructors will work with you to help you get the best workout possible in a safe manner.
What To Expect From a Boxilates Class
Typically, a Boxilates class will start with some warm-up Pilates or mobility exercises to get the muscles primed for the workout ahead. Other warm-up moves, such as shadow boxing, plank sequences, and squats will ensure your joints, muscles, and mind are ready to go.
From there, expect to incorporate a variety of Pilates exercises (you can learn more about our Mat Pilates classes here). As you move through the workout, you'll perform boxing drills, cardio intervals, and additional Pilates exercises.
Between the heart-racing boxing drills and Pilates exercises, you'll enjoy the benefits of endorphins that accompany a great cardio release. You'll also feel mobilized and strengthened from the core out.
As with any of our classes, our instructors will go out of their way to ensure you feel welcome. We place a heavy focus on injury prevention, meaning our instructors are always ready to educate on proper form and provide modifications if necessary.
Join Us for a Boxilates Class
If you are looking to amp up your typical workouts, we cannot recommend Boxilates enough. From brief boxing drills to cardio bursts to Pilates exercises weaved throughout, Boxilates keeps your mind and muscles guessing
Not sure if Boxilates is the right class for you? Please do not hesitate to reach out to us with any questions. We are always happy to suggest classes based on a client's current fitness level and goals.
If you'd like to experience the benefits of Boxilates, we invite you to use our convenient online booking tool to experience this action-packed class for yourself.