If you are interested in trying a Pilates for beginners class, you may be wondering what to wear.
Throwing on a loose t-shirt or baggy pants will leave you uncomfortable during Pilates workouts and may even compromise your ability to perform the moves safely and accurately.
Fortunately, there is a wide range of functional Pilates clothing that will keep you stylish and comfortable at the same time. We've put together this simple guide on what to wear to Pilates so you can show up to class prepared, comfortable, and ready to enjoy all the benefits of Pilates.
What to Wear to Pilates Classes
When choosing what to wear to Pilates classes, you will want to opt for tight, form-fitting clothes without being restrictive. Pilates involves many movements that require you to fold, bend, stretch, and move your body in a variety of ways, making it important to choose clothes that are comfortable and distraction-free.
Form-fitting, body-hugging clothes also allow your instructor to observe your form and make sure you are performing moves safely. Pilates classes can also cause you to work up quite a sweat, so make sure to opt for breathable fabrics.
You will also want to pay attention to how revealing your clothes are and how well they stay in place. Certain moves require you to contort your body into a variety of positions. Having a shirt ride up or a waistband roll down during moves is distracting and uncomfortable.
Tops
When selecting a top to wear to Pilates class, avoid anything loose, flowy, or baggy. Also, avoid tops that are too tight or restrictive as they will limit your range of motion.
Many brands offer comfortable Pilates tops that offer a beautiful balance between style and function (keep reading to see some of our top recommendations for the best Pilates clothing brands).
Some clients enjoy wearing a form-fitting t-shirt, tank top, or crop top over a lightweight sports bra. You can also wear a light sweater when you come to class to ensure you stay comfortable until you are warmed up.
Bottoms
When choosing bottoms to wear to Pilates classes, avoid options that are overly tight or too low-waisted. You want comfortable, breathable bottoms that allow you to complete the movements without restriction.
Many of our clients enjoy high-waisted bottoms for classes as they provide good coverage and comfort. Opt for leggings, capris, or shorts that are breathable, stretchy, and comfortable. Some clients do find that tight shorts ride up during certain moves, so keep this in mind when deciding what to wear to Pilates.
Also, make sure your leggings aren't see-through as many movements require bending.
You may also want to opt for bottoms without a thick waistband as they may dig in or cause friction during some moves.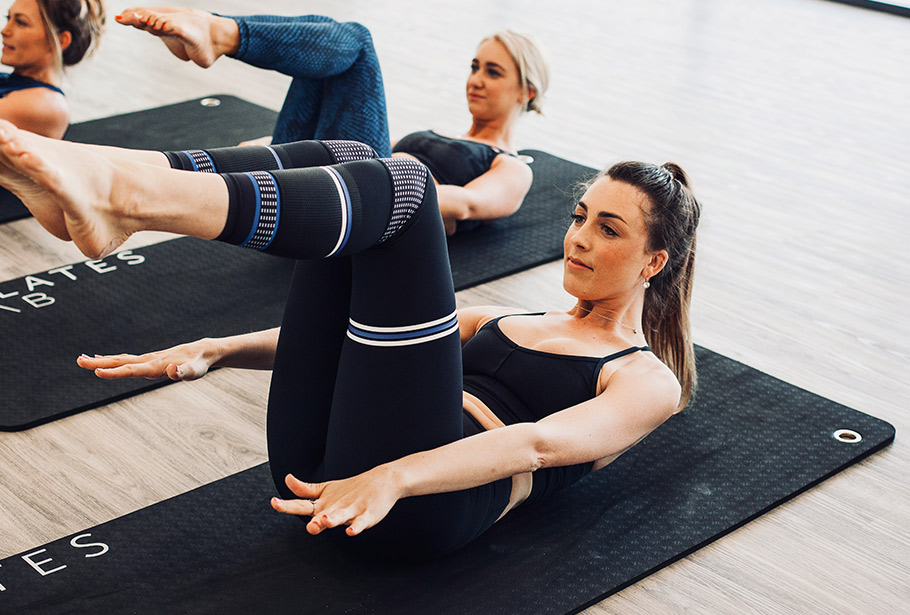 Hair
If you have long hair, make sure to tie it back to keep it out of your face during the workout. Opt for a fabric hair tie that is snag-free and metal-free.
Sports Bras
If desired, you may want to wear a light to medium-impact sports bra to Pilates classes. Looking for a bra that is comfortable and offers adjustable straps that won't move around during class.
Feet
Many Pilates studios, including The Pilates Lab, require grip socks for sanitation and safety reasons. Grip socks help protect the bottoms of your feet, prevent slipping, and provide an extra level of balance and stability during moves.
When looking for the best Pilates socks, choose a pair that is high-quality, durable, and breathable.
Related Reading: A Guide to Your First Pilates Class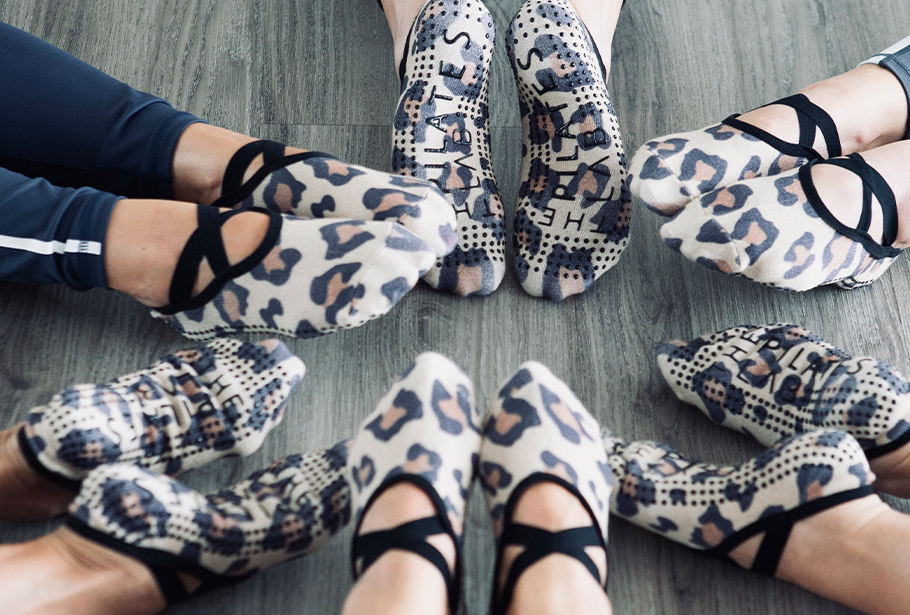 Popular Pilates Clothing Brands
Looking for the best Pilates clothes? Here are some of the most popular Pilates clothing brands to get you started:
Tips on What Not to Wear to Pilates Class
Avoid details or extras on clothing, such as buckles, clasps, drawstrings, or zippers — this is especially important if you are taking a Reformer Pilates class as these details or embellishments could get caught on the equipment
Remove any jewellery or accessories (belts, bracelets, necklaces, etc.)
Go fresh-faced
Choose unscented products if possible (perfumes, lotions, sprays, and deodorants with strong scents can be irritating to individuals with sensitivities)
Avoid any clothing that is baggy or ill-fitting (along with potentially getting in your way and obstructing your movement, baggy clothing hides your body from your instructor and prevents them from observing your form and checking your alignment during exercises)
Ready to Try One of Our Pilates Scarborough Classes?
The right Pilates clothes will keep you looking stylish while still being functional. If you have any other questions about what to wear to Pilates class, please contact us and we'd be happy to help.
From the Pilates newbie to individuals recovering from an injury to seasoned practitioners looking to challenge themselves, our range of Pilates Scarborough classes has something for everyone.
If you are new to The Pilates Lab, our Intro to Pilates class is a prerequisite for our other classes. In our Pilates for beginners class, we cover all the fundamentals, including breath work, terminology, core activation, and proper form.
Please contact us with any questions or advice on which of our Pilates classes would be ideal for your fitness level and goals. You can also use our convenient online scheduler to book a class.